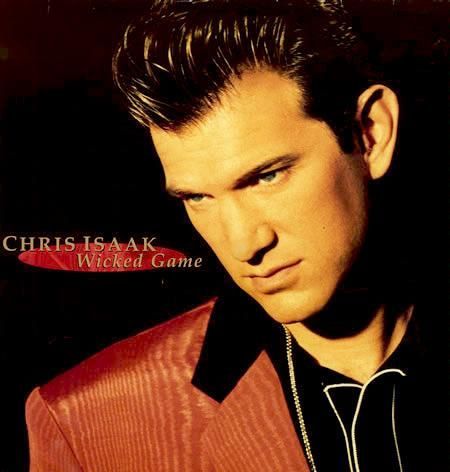 Shades of Elvis, Roy Orbison, echo and reverb drenched guitars, and hints of surf rock all rolled into one. One click of the play button, and you are instantly transported to the mid-60's. What could be better than a sonic time machine? Chris Isaak does this to you.
"Wicked Game" is a 1989 song by Chris Isaak from his third studio album Heart Shaped World. Despite being released as a single in 1989, it did not become a hit until it was later featured in the David Lynch film Wild at Heart (1990). Lee Chesnut, an Atlanta radio station music director who loved David Lynch films, began playing the song and it quickly became a nationwide top ten hit in January 1991, reaching #6 on the Billboard Hot 100 chart, making it the first hit song of his career. James Calvin Wilsey played the distinctive lead guitar solo on the song.

The song is written in the mode of B Dorian. Through several years, many different versions and arrangements of the song were made before the final version was released. Both the bassline and drums (except the cymbals) were sampled from previous recordings of the song and then looped.

The song is a ballad about unrequited love, performed in what Allmusic describes as a "brooding, sorrowfully conflicted" tone.
Music videos

The music video of the song was directed by Herb Ritts, shot in Hawaii and featured top model Helena Christensen rolling and frolicking on the beach with Isaak. It was filmed in black and white. Christensen was topless and Isaak was shirtless through most of the video, although clever camera angles concealed any actual nudity. The video won the MTV Video Music Awards for Best Male Video, Best Cinematography and Best Video from a Film. A previous version of the video was commissioned for the Wild at Heart soundtrack, and was directed by David Lynch.

The video was ranked #13 on VH1's 100 Greatest Videos and was also ranked #4 on VH1's 50 Sexiest Video Moments. The video was ranked #73 on Rolling Stone magazine's "The 100 Top Music Videos". The video ranked #1 on Fuse's "40 Sexiest Videos" in 2010.